Issue 5+6, July/August 2016

"Aswang, at Night" by Mia S-N | Likhain.net / @Likhan

CONTENTS
INTRODUCTION
INTERVIEWS
Asian Science Fiction, Fantasy & Horror: A Round Table Discussion
Aliette de Bodard, Alyssa Wong, Isabel Yap, John Chu, JY Yang & Priya Sharma
FICTION
Samjogo and the Vengeful Stories
Mark James Russell
Excerpt from The Devourers
Indra Das
The New Daughter
Dean Francis Alfar
Give and Receive
David S. Golding
POETRY
Lessons in Mango Picking
Shobhana Kumar
Fallen to Witches
Jennifer Crow
where are you, / Nessie?
Brendan McBreen
Calcutta: An Ode to an Unborn Life
Ajapa Sharma
NON-FICTION
"Even When We Go to the Stars": The Burning Light in Mary Anne Mohanraj's The Stars Change Universe
Isha Karki
Unstoppable Women, Nightmarish Cities: Asian Horror Cinema
Niyati Bhat
A Retrospective on Filipino-Chinese Speculative Fiction
Charles Tan
Notes on Indian Science Fiction: The Parallel Worlds of Jayant Narlikar and Vandana Singh *
Salik Shah
Asian SF: The Essential Reading List (2016)
Niall Harrison, Nisi Shawl, Jaymee Goh, Indra Das, Anil Menon & Others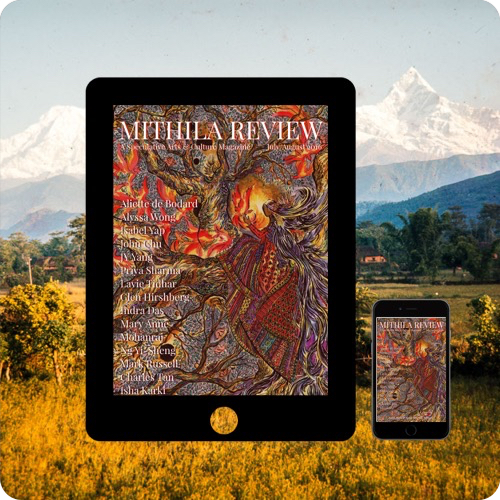 Free Download 
Our "Asian SF" double issue is also available to download as a beautiful ebook! 
iBooks/Android: EPUB
Kindle: MOBI
(Hosted on Dropbox. Last updated: Aug 10, 1:25 p.m. GMT+5:30)
NEWS/ANNOUNCEMENTS

Mithila Review to be a Quarterly with Payment! (10/04/16)
You can now become our patron to support Mithila Review and our contributors, and help us become a SFWA-qualifying market. Learn more.